To calculate your route, click on the blue symbol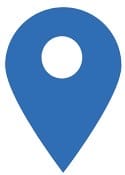 , then on the red arrow on a white background

. You can then indicate your starting address to find out the route to the Balcons de Sorgeat.
In our village of Sorgeat, « guesthouse » signs will help you reach us.
Free parking is available in front of our house.
Our guest rooms are located at an altitude of 1050m and access may require special equipment in winter (chains or snow tires). The roads are however cleared of snow daily. You will find all the information on the state of the roads in Ariège on the inforoute09 website. Note that since November 1, 2021, you must be equipped (winter tires or chains) to go in winter to the mountain villages of the Pyrenees, of which Sorgeat is part (see public service).
The Ariège Valley is served every day by one of the last two night trains in France. So why not take the opportunity to get away from it all for a long weekend. Leaving Paris Austerlitz around 10 p.m. you arrive at Ax les Thermes around 8 a.m. the next morning. For the return trip, departure from Ax around 8 p.m. to arrive in Paris around 7 a.m. the next day. Information on the sncf.com website or on thetrainline.com